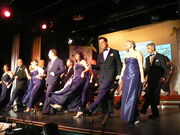 Celebration

Date

Nov 28th - Dec 1st 2007

Director

John Covey

Previous Show

Death by Fatal Murder

Following Show
For Stage-Door's 10th Anniversary Stage-door put on a Celebration of the past ten years, featuring a whole host of song's from the shows of the past ten years.  Featuring the headline songs from Annie get your gun, Oklahoma!, Carousel, Blitz, Fiddler on the Roof, Hello, Dolly!, A Christmas Carol, My Fair Lady, Guys and Dolls and It's a Swing Thing.  Gathering as many of the original casts as possible the show proved to be a true show for the ages, and a wonderful showcase of Stage-door talent.
Anne Anderson
Charley Butler
Christine Simpson
Fiona Humphrey
Hannah Brooks
Heather Gearing
Joy Covey
Karen Perry
Lisa Perry
Louise Moss
Maisie Poland
Micki Darbyshire
Nicolle Wabe
Pat Stewart
Paula Newham
Rhonda Rossier
Sue Knight
Alan Moss
Barry Tinkler
Dave Humphrey
David Knight
Freddie Thompson
Gary Boniface
Jamie Griffiths
John Perry
Jon Haskell
Mark Barnes
Mike Gearing
Tim Davis
Tony Makey
Director - Jon Covey
Chreography - Sherry Lorraine
Musical Advisor - Steve Pannell
Musicians - Michael Wooldridge, Phil Solomon and John McSweeney
Stage Manager and Backstage Crew - Ricky Davey
Lighting - Brian Mercer
Set / Scenery - Ricky Davey and Mike Gearing
Additional Dance and Movement - Sue Knight and Lisa Perry
Costumes - Joy Covey and Christine Simpson
Publicity - Micki Darbyshire
Posters and Programs - Joy Covey and Tony Makey
Rehearsal Pianist - John McSweeney
Ad blocker interference detected!
Wikia is a free-to-use site that makes money from advertising. We have a modified experience for viewers using ad blockers

Wikia is not accessible if you've made further modifications. Remove the custom ad blocker rule(s) and the page will load as expected.